NEW
In celebration of fairy day we are opening early our new interactive news and updates page full of fun things links, games, chat, freebies, shops and more Click Here

Fairy Day

was June 24 we cant wait for next year but around here it is always a fairy celabration you can find so much fairy it is amazing

Hello fae,
We are fast approaching Fairy day, this day is so special to us
The day of our year for games, fun and play , whatever your age
Be you a young fae or an older fae, a queen or a flutter fae all join
In to make it a special day for our seeds of time journey.
Our queen lisa has many wonderful ideas for games and competitions, there will be gifts on our web pages at seedsoftime.org and we hope you will join us for a party in the gardens section of the forums. Our Maiden will be cooking up lots of wonderful treats for all and we shall have dancing and music
All the day long.

If you have a special drawing , sketch, painting , poem or a story, even a nice gift tag or picture of your garden please send them to us we would love to see them. Donít be shy , all fae are naturally
Very artistic and love writing poems.




Show the world that fae live , in their gardens and homes and work
Hard to keep the wildlife content and happy, we watch over homes
And of course all our flora and fauna, taking care of each and every part of nature, I myself enjoy giving the stars a quick polish and dust with fairy dust so pretty.

Come one come all to our fairy celebrations xxx



http://www.fairyday.com/


have a look at this site too.



Here in my country UK, we have a fairy week end, starting with a
Fae ball on the Friday evening it will be a masked ball to, after that
The whole week end is devoted to fae how I wish I could go.

Maiden has a fairy day page at Squidoo
http://www.squidoo.com/fairy-day

I hope this has made you curious as all fae are naturally that way, fly in and help us make this day a very very special day for all fae
Across the world, in all realms xxxx

Princess rosie

Welcome To Seeds Of Time
Check out our new blog for cool tidbits news and fun fairy updates ad your comments and link if you like
BLOG/News or check out our what our princess is writing about at
The fairy book our newsletter and more
Join seeds of time? seeds of time a fairy journey has 2 kinds of members
those who Just love fairies and enjoy browsing the site, the links , the stories, E cards and fun these are Fairy Lovers and then the spirit Whimsical fairy those who are more whimsical want to chat or might be sig tag makers like contests story telling and making sister fairy happy.
So we have Fairy Lovers who can join by emailing us you can find our addresses below on this page.
Or Whimsical who might wish to join our yahoo group and or forum.
both types of fairy are very special to us and respected as wonderful fairy both types of Fairy get a badge and will get our monthly news letter of anything new on the site and what up at seeds of time. we would love to post your web page if you have one on our site so others can visit it and would love to celebrate your birthday send cards on your special day!
so when emailing to join please let us know what you wish us to know of those I just mentioned if you are Emailing please let us know if you are a
Fairy Lover or Whimsical Spirited fairy and fairy Name .
:
Whimsical Spiritied fairy you might want to Click to Join SOTchat
Browse Through Our Seeds Of Time here a Journey Awaits
About Us
S
cribe's
Magick
Cooking School

Crafters
Art click here for feature artist

Fae Playground
E-cards
Spooky forest
Home Remedies
Garden Diaries
(Galleries)
Magical Creatures
& Fur Babies
Enchanted Wishes
T
he fairy book
our newsletter and more
Meet the Fairies
Our Face book group
Members fairy products
(Zazzle)

A trip back in time
- how the owners and some members first met
Magical fantasy
- what is a fairy, what is a
Meet The Staff ~ Guest Log

Causes





To become more involved with a journey or become a member of a certain journey you can send an email to staff of get more involved through our forum

.

Visit love notes this valentines day Here
Visit our winter holiday celebration Here


Visit our Garden Spring and Summer celebration

Here

New Contests at the forum, sig tag, writing, crafts, cooking, and more!
this months contest check out our Halloween pages
Are you a whimsical fairy want to chat tell stories jokes share fairy favorite things need prayers for yourself a friend a pet. , play word games or share join the forum has a lot to offer
Come now and "Join the party!"
Fun and activities at our Forum
where you can participate every
day once a week or as often as you
choose art, pets, magick, cooking, crafts, poems; all interests covered
Let's get the party started!
please when register use fairy name we are trying to keep spam and dark fairies who wish to hurt others out ! we just want a fun place for fairies safe and not hurtful kind freindly and ok for kids as well .
To get in touch with staff to add things to any of our pages like garden diarys or pets or a links to pages or for a question or anything lol send a butterfly with message to
Send a questions , join or to add to our site writings art anything or enter contests email staff addresses below.
Fairy Princess (scribes and crafters)
Fairy Maiden (magik and cooking School)
Fairy Queen (Art and playground)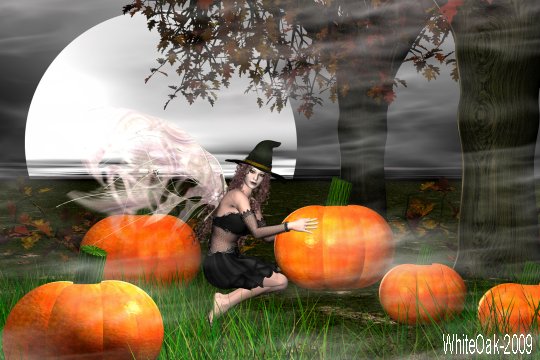 Feature artist Pixie Fae Feature Artist White Oak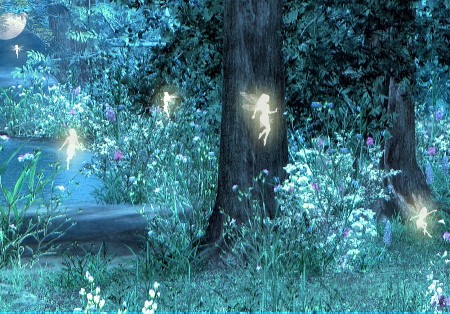 Feature artist Lisa
feature artist Rosie
Please see the full size pictures on our artist page
Updated June, 2010
Please Bookmark / Favorite this page as your menu of seeds of time
We recommend these wonderful sites and books
feature article site or book
Modelling Fairies In Sugar Frances McNaughton see attachment for front cover, ISBN 0-9549760-X
printed by CK Litho, Unit 3, Enterprise Centre, Chapman Way, Tunbridge Wells, Kent TN2 3EF, UK
currently not available on Amazon , it is on there but you have to tick the box to be informed when it is back in stock/
gorgeous book hugs Rosie xx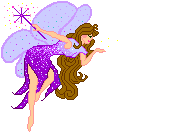 New game off site lots of fun many fae Addicted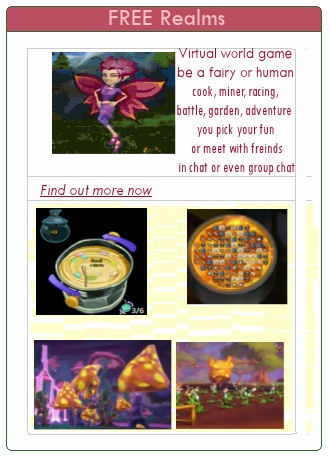 Watch free realms trailers
official trailer you tube
cooking trailer at real realms you tube
what is free realms web site