Come and fly with us we are dressed up for a hunted good time flying above and through seeds of time haunted garden. Would you like to join us we can make you a little witch of your own just email us Your name and colors dress and hair and which broom above you like. and we will give you one for your email or web pages and join her to our flight !
Welcome to our Cooking page
the caldron and ovens are full take a peek at what is cooking!!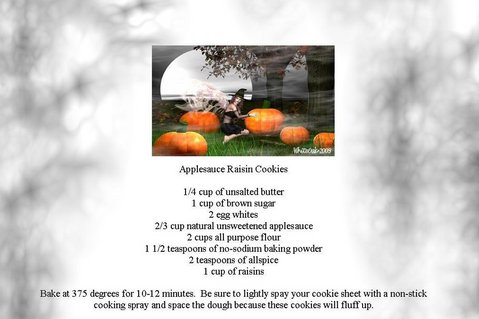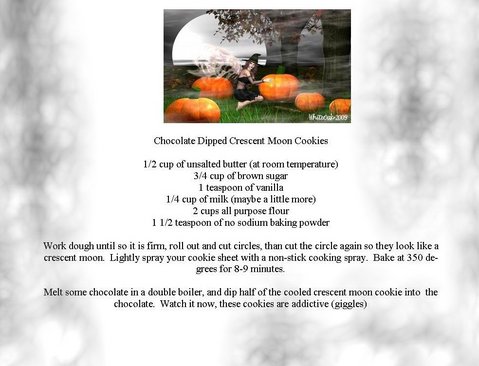 Pumpkin Cookies
1 tube of refrigerated sugar cookie dough
1 can of cream cheese frosting
Candy corn

Directions:

Slice the dough and bake according to package directions. When cool, frost with
frosting. Place candy corn on the cookies to make a jack-o-lantern face.
Variation: Tint the frosting with red and yellow food color to make orange
frosting. Use chocolate chips or pieces of licorice to make the faces.



Ghost Suckers

Take a round-headed lollipop. Lay the head in the center of a white handkerchief
(or disposable tissue). Fold and gather the handkerchief down around the stick and
tie just below the head with a thread/ribbon/rubber band. Using a black magic
marker, add 2 black dots for eyes

You can also use paper strong tissue Napkins and such draw face and add yarn or ribbon



Halloween Punch

1 env. orange unsweetened Kool-Aid
1 env. raspberry unsweetened Kool-Aid
2 c. sugar
3 qts. water with ice cubes
1 liter ginger ale

Mix Kool-Aid and sugar in pitcher; add water and ice. Stir. Add ginger ale just
before serving.



Pumpkin seeds

DON'T THROW THEM AWAY A FUN SNACK

Preheat oven to 250°F.

After removing as much pulp as possible from the pumpkin seeds, place the seeds in a colander in the sink and run cold water over them as you work to remove any remaining pulp. When the seeds are clean, drain them and place between two paper towels to dry.

In a large skillet, sauté 2 cups pumpkin seeds, 2 tablespoons butter or 1 1/2 tablespoons peanut or safflower oil and 1 teaspoon salt. (For an interesting flavor variation, try Morton's Hot Salt or use Seasoned Salt.)

Stir 3 minutes until seeds are well coated with butter.

Spread evenly on a cookie sheet and bake for 30 minutes.

Take a few out to try at this point (watch out-they will be hot so let them cool a bit first!)

Some seeds are larger than others and will take longer to bake.

If necessary, continue to bake 15 minutes longer or until lightly browned.

Place on a paper towel to cool.
Variation: After washing the pumpkin seeds, soak seeds for 1-2 hours in a mixture of 1 quart of water and 1/2 cup kosher salt. Be sure salt has dissolved. Remove seeds from water mixture after soaking and dry. Proceed as above.



Find some great halloween treats here
Halloween Treats